Video Testimonials
Letters
Other Testimonials
"Stephan,
The Customs authorities in Argentina have just authorized us to take possession of the three fire trucks that the 911 FUND recently donated to Benavidez, and the fire truck that was donated to Garin. All four fire trucks are in excellent condition and in a few days we will send you photos of these trucks in their new home. Thank you 911 FUND for all of your help, and greetings to all."
Comandante Alfredo Gonzalez, Cuerpo de Bomberos Voluntarios de Benavidez
Comandante Adrian Peralta, Cuerpo de Bomberos Voluntarios de Garin
Buenos Aires, Argentina
14 April 2012
"My dear friends!!!!!

A big big thanks for the wonderful course you gave to Probosque and to the 911 Fund for having introduced you to us. You have been so generous with your time, your knowledge and experience, and I think that you will be remembered by all the group not only for the precious course you gave them, but also for you fraternal sharing! No doubt that fire fighters are all brothers throughout the world and I feel privileged, a simple mortal, to have witnessed this encounter."

We will keep in touch!!!! A big hug!

Marie Aimee Laborde
Fundación Comunitaria Malinalco
Malinalco, México
14 November 2011
"Stephan,
Good equipment is very helpful in providing high quality clinical care. We are very appreciative of the donation of these stethoscopes. Thanks so much for putting in the effort to get these for us. The residents will put them to good use."
Dennis Palmer, MD
Program Director, Christian Internal Medicine Specialization Residency
Mbingo Baptist Hospital, Bamenda, Cameroon
25 October 2011
"By now, I am sure that you are aware of the damage caused by Hurricane Jova and the resulting tropical depression in El Salvador. Caluco (El Salvador) is very fortunate to have the supplies we sent them. In fact, I spoke with Dr. Garcia earlier today, and he was telling me how crucial so much of what we sent has been in this critical time of need. So, thank you to you and everyone at the 911 FUND for making such a difference."

Jocelyn Getgen Kestenbaum, JD, MPH
Program Director
Virtue Foundation
20 October 2011

"Dear Stephan.
I would like to thank you on behalf of our firefighters for the beautiful firetruck. It's what you promised, and much more, newer and in pristine condition. The arrival of the truck has caused lots of excitement at the firehouse. No words can describe the joy that we feel. It's so wonderful to walk into the firehouse and admire these three firetrucks. The truth is that in such a short time we have been able to accomplish so much. This could not have been possible without the support from the 911 FUND.

My dear brother, hoping you are fine and that you'll visit us soon. It will be a pleasure to have you here again. Thank you, thank you, many thanks, my brother."
Comandante Héctor Marcelo Auhad
Bomberos Voluntarios de Los Cardales
Los Cardales, Argentina
28 July 2011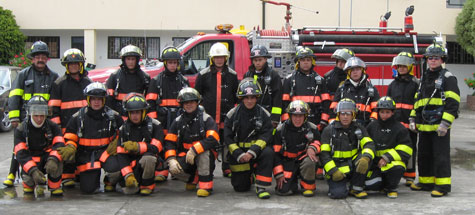 "Good afternoon Dr. Hittmann,

On behalf of myself and the firefighters of the municipality of Cundinamarca Sopo, we send you a special greeting of thanks for your valuable collaboration in the donation received from the 911 FUND. The staff is very happy and grateful to you for the turnout gear and equipment. It has been a source of pride for our institution to have received this valuable help, which enables us to put forth our best efforts on behalf of the Fire Department. God bless you and your colleagues from the 911 FUND."

Comandante Jorge Heli Paez Bello
Cuerpo de Bomberos Voluntarios de Sopo
Cundimarca Sopo, Colombia
2 July 2011

"Hi. I'm a citizen of one of the cities that have received a donation from your
group in Cd. Juarez, Mexico, and I just wanted to say thanks on behalf of the
people who will have their properties or lives saved by your generosity.
Thank you all for proving that there still exist people with a big heart and that
care for others without expecting anything in return."
Felipe Arias del Campo
Cd. Juarez, Mexico
27 April 2011
"I know that in the next months we are going to have an active correspondence between the 911 FUND and the Fundación Comunitaria Malinalco, and I look forward to what we may build together.
I want to tell you how honoured I felt to have met the three of you, and how deeply I have been moved by your vision, intelligence and heart. These past six days have been of profound teachings and joy at the same time.
It is uplifting to meet people whose life has been of service and with such courage. I am absolutely convinced that firefighters are from a special family with a particular quality which is a special gift of God. The generous quality to save and protect, sometime at their life cost, all living creatures; maybe this is why one feels so trusting and confident in your company, because, before all, you work for Life, value Life, fight for Life…. And Life is with you!
You will always be present in my heart and please feel free, independently of the work we may do together, to know that you will always have a home in Mexico. My house is open for you. I send you hugs and a heart full of thanks."
Marie Aimee Laborde
Fundación Comunitaria Malinalco
Malinalco, Mexico
8 April 2011

"I thought you´d like to know the fire truck we just received from the 911 FUND already attended it´s first battle in Juarez, and won beautifully. Last week, the old, abandoned racetrack building was intentionally set on fire. As of today, we do not know if it was the drug cartels that set it on fire, because we´re building the city´s largest community center and sports complex there to keep kids and youth away from the streets and the drug cartels. Anyway, the firemen said that had they not had the truck you donated, the whole building would have been burnt because they only had one other fire truck with a very small water tank. Tomorrow I'll send you a scanned copy of the newspaper article about the fire, along with pictures of the 911 FUND fire truck in action. Thank you very very much for all your support."

Salvador de Anda
Bomberos Voluntarios de Juarez
Partners of the Americas, Juarez Chapter
Cd. Juarez, Mexico
7 March 2011
"Hola Stephan, como estas? Espero que muy bien!!! Por Garin todo bien!! Trabajando mucho, ayudando a los demas cuarteles como siempre. El trabajo que haces vos con todo tu equipo y con Adrian en Argentina hace que los bomberos podamos enfrentar los incendios con mas equipo y entrenamiento. Eso hace que podamos brindar un mejor servicio a la comunidad y que al tener mejor euipo y capacitacion no ariesguemos tanto nuestras vidas. Ya se que siempre te lo digo pero gracias a vos nuestras vidas como bomberos han cambiado para mejor. Por eso de mi parte, estoy y estare eternamente agradecido!!! Quiero que le mandes un gran saludo a tu familia de mi parte y un gran abrazo para vos!!! Espero verte pronto!!! Un servidor y amigo, Emiliano!!!!"

Captain Emiliano Lopez
Cuerpo de Bomberos Voluntarios de Garin
Buenos Aires, Argentina
20 November 2010
"Thank you so much. The Guadalupe Fire Department in Mexico was overwhelmed by your gift of the turnout coats. They know they came from the 911 FUND and are very grateful!

Your help was tremendous. May God bless you as you continue to come to the aid of firefighters worldwide. We are thankful for all you are doing."

John White, President
Firefighters For Christ
August 9, 2010

"This is to thank you again for the great job you're doing around the globe helping firefighters and helping communities; this time was the chance to help Bogota!! Congratulations!! What a great team who are so willing to help us in any way possible, through sharing experience and showing enthusiasm in the tasks we requested. We are so impressed with their professionalism. Thank you again and we are aware that this is just the beginning of a long-term, loyal and productive relationship!!"

Chief Jairo Larrarte and Deputy Chief Jason Villamil
Aeropuerto Internacional el Dorado
Bogota, Colombia
February 2009
"I am very grateful for your help from the foundation on helping me ship the engine truck to my fire station. On behalf of my brothers and I, we thank you with much appreciation."

Jose G. Salinas, Volunteer Fire General Corp from Peru,
Chief RR.PP. International
"Salvadora Lima" No. 10
December 2008
"The Cuerpo de Bomberos de Villa Tapia, which I represent, wants you to know how much we appreciate your valuable donations. We are able to address a need in our community that, otherwise, would have been impossible without your help.
From deep in our hearts, our community thanks you."
Leandro Valeriano, Intendente General
Cuerpo de Bomberos de Villa Tapia, Dominican Republic
July 2008
"We would like to thank you for your support and contributions to the Dominican Republic, and especially to the firefighters in San Pedro de Macoris. Please visit us again soon."
Ing. Javier Garcia
Cuerpo de Bomberos de Macoris, Dominican Republic
July 2008

"All of us, instructors, students, and of course, the firefighters, are delighted with the training provided by the 911 FUND. Over 70 firefighters from 16 fire stations in various parts of Colombia participated, primarily from Bogota, Cali, Medellin, Monteria, Pasto, Popayan and elsewhere. We hope to continue this training by having the 911 FUND offer additional courses. Our hope is that you will continue supporting our training school with equipment and training since it helps firefighters from many parts of this country.

Although our school lacks equipment and tools, with your help, we will be able to improve the training and safety for many more Colombian firefighters. Many thanks."
Captain Jairo Soto Gill
Cuerpo de Bomberos Voluntarios de Cali
La Escuela Interamericana de Bomberos de Colombia
July 2008
"I would like to extend my thanks for your recent visit to the Dominican Republic. Together with the communities of Salcedo, Tenares, Villa Tapia, Moca, San Francisco de Macoris, Santiago and the many surrounding towns that you visited, you have our combined gratitude for the equipment you have already sent, and the support you have given to fire departments throughout the Dominican Republic. Your help has better equipped our firemen to protect lives, property, and, most important, our own lives. Your assistance and the training provided by the many wonderful professionals in the 911 FUND has made a tremendous difference in the preparedness and quality of service our firemen can now provide.
Thank you, thank you, thank you."
Monserrat Friederang
"Mother of the Dominican Fire Service"
Salcedo, Dominican Republic
April 2008

"As a State Representative and honorary chairperson on the Rhode Island Hispanic Firefighter Association, I would like to thank you for all of your support. In particular, I would like to thank the … 911 Foundation … for your assistance with the firefighter turn out gear being delivered … to the Dominican Republic and all of your hospitality during our stay in New York when we were delivering the boxes."
Hon. Grace Diaz
Representative, District 11
State of Rhode Island
House of Representatives
January 2008
"Yesterday night at around 2100 hours we saw the lights of the new truck being driven along the highway coming to Garin. The road was flooded in 10 seconds with a crowd of shouting and dancing people who didn't stop blowing their horns all the way to the fire station. We totally blocked the entrance to Garin, and everyone looked in disbelief. From passing cars we all threw panfletos, papers with the information that a new truck was in Garin, thanks to the 911 FUND. Our Chief seemed in another world while he watched all of us get onto the truck and stare at it in disbelief. It was something we will never forget.
GRACIASSSSSSSSSSSSSSSSSSSSSSSSSSSSSSSSSSSSSSSSSSSSSSSSSS."

Patrick Baert, Firefighter
Bomberos Voluntarios de Garin
Garin, Argentina
May 2007
"I am writing to thank the 911 FUND for your visit to the Dominican Republic and for the interest you have shown toward our humble and much in-need fire department. Your visit has been a catapult to igniting action and awakening awareness of the need to support these departments, and has prompted a new and open dialogue with other fire departments in the region. Thank you for your effort and your support."

Monserrat Friederang
"Mother of the Dominican Fire Service"
Salcedo, Dominican Republic
December 2006
"It was a pleasure for us to receive your visit, and we thank you for sharing your experience. I know that your assistance will help us improve our Safety, Health and Environmental Systems, and also integrate efforts with the local fire brigade."

Oscar Diego Varaona, Director
Safety, Security, Health & Environmental Unit
Alba – ICI Paints
Buenos Aires, Argentina
October 2006
"The Cuerpo de Bomberos of Panama is very grateful to the 911 Program Foundation for the cooperation offered to us in the improvement of our institution, in the attainment of equipment and making available courses of instruction for our personnel. We feel honored being one of the firefighting institutions in Latin America that counts on the support of the 911 Program. Know that in Panama you have in the Panamanian fire service a family who esteems and respects you, and in addition, think of Panama as your new country. From Colonel Leopoldo Mojica Castro and all his General Staff, we thank you."

Colonel Luis A. Rodriguez
Commissioner of the Council of Zone Directors
Commander in Charge
Cuerpo de Bomberos de Panama
August 2004
"The first fire truck donated by the 911 Program Foundation, represented by Dr. Stephan Hittmann, was recently delivered to the Panama Fire Department. Allow me to express once again the gratitude of the Republic of Panama for this contribution, and for the additional fire trucks and ambulances that you will be donating to Panama."

Rita G. de Frochaux
Consul General of Panama
April 2004
"I take this opportunity to advise you that NYK upper management has agreed to ship your units free as a donation to the General Consulate of Panama."
Joseph Sundheim
NYK Shipping Lines
April 2004

"Thank you so very much for your contributions to the Fire Departments from the communities in our region, such as Campana, Zarate, Los Cardales, and Capilla del Senor. Your assistance is most welcome."

Juan Carlos Bongartz
Manager of Industrial Relations
Tenaris Siderca S.A.I.C.
Buenos Aires, Argentina
March 2004
"This is to express to you my sincere appreciation for the honor given to me by you and the firefighters of New York. I consider the friendship we have developed an essential part of the good work we are doing. I shall always hold you in the highest esteem and you will always be present in my thoughts."

Mayor Julio Ambulo
Panama City, Panama
November 2003
"Thank you. I'm truly honored and want you to know how much I appreciate you thinking of me. It was terrific seeing you in California and I look forward to seeing you in New York on December 2nd."

Tom Cruise
Los Angeles, CA
September 2003
"On behalf of the Panama Fire Department, I want to thank you for your generosity, continuing support and interest in helping the bomberos in Panama. Please continue working with the same enthusiasm for all firefighters."

Colonel Leopoldo Mojica Castro
First Commander, Panama Fire Department
August 2003
"We truly admire you and appreciate all you're doing for firefighters and all rescue workers."

Jenna and Bodhi Elfman
Hollywood, CA
August 2003
"Nous avons été trés honoré de recevoir votre visite le 13 mars dernier à Lyon. Compte tenu du délai de transmission de l'information et ne connaissant pas vos fonctions au sein des sapeurs-pompiers de New York et le Foundacion 911, nous sommes conscients que l'accueil, qui vous a été réservé, était inadapté et nous le regrettons."

Lieutenant-colonel Jean-Pierre Escassut
Lieutenant-colonel René Czechowicz
Officiers du Service Départmental d'Incendie
et de Secours du Rhône, France
April 2003