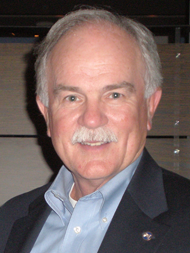 Stephen G. Vetter
President and CEO of Partners of the Americas
United States
Steve Vetter offers a rich background in international and domestic leadership experience in private, philanthropic and governmental organizations focused on reducing poverty and improving the economic and social development of disadvantaged populations.
He recently completed Regenerative Leadership: An Enriched Approach to Peer to Peer Learning for Non-Profit Leaders, a book that documents the Eureka Communities approach to leadership development, where he served as President from 1996 to 2005. Created in 1991 to provide support for non-profit leaders and build the power of CBO's to improve the life conditions of families living in poverty, Eureka worked to empower leaders of grassroots organizations by providing them with fellowships that enable opportunities for peer-to-peer learning and share effective practices. Under his leadership, Eureka awarded more than 500 fellowships to support community leaders working to improve educational opportunities for poor children.
Prior to joining Eureka, Steve held a number of executive level positions at the Inter-American Foundation (a public corporation dedicated to supporting the self-help efforts of communities in Latin America and the Caribbean), including interim President, Director of Outreach, Program Vice President, and Foundation Representative to several Caribbean and Latin American countries. As Director of Outreach, he assisted regional NGO's in developing sources of financial support, and in promoting philanthropy and community service throughout the region.
Steve has been active in the field of leadership and community development, is a Woodrow Wilson National Fellow, and served as a Peace Corps volunteer in Colombia from 1966 to 1969.
Steve has an MA in Economics from Ohio University, is fluent in Spanish and Portuguese, and is happily married with three children.