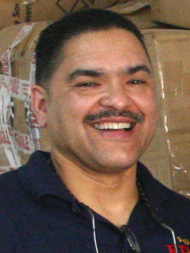 Chief Raynaldo Santiago
City of Camden Fire Department
United States
Born and raised in Camden, New Jersey, upon graduating from high school Ray enlisted in the US Army where he spent six years on active duty then another 16 years in the Reserve, retiring in 1997 as a Master Sergeant.
Returning home in 1980, Ray's grandfather gave him an application to become a firefighter. Appointed to the Camden Fire Department in 1982, Ray was the first Hispanic firefighter in the city's history, the first Hispanic Captain in 1990, the first Hispanic Battalion Chief in 2002, and promoted to Deputy Chief in 2009.
Having had a rich and diverse career in the Fire Department, Chief Santiago is a Certified Level 1 Instructor, Fire Official and EMT-B in the State of New Jersey, where he has served as Recruitment Officer, Training Academy Instructor, Fire Marshal, Fire Prevention Coordinator, Captain of the Arson Investigation Unit, Captain at Engine Co. 7, 8, 1, 11 and Fire Boat 1. Currently serving as Chief Training Officer, Chief Santiago oversees all training and education for the Department's 248 members.
Deeply committed to a variety of humanitarian and Hispanic issues, he served for 15 years as Vice Chairman of the Board of Directors for the CamCare Health Corp.; was a Founding Father of both the National Association of Hispanic Firefighters and the International Association of Hispanic Firefighters, where he served for 10 years as President of the Camden Latino Professional Firefighters Chapter; has been a volunteer with the American Red Cross for nearly 25 years; has volunteered as a little league coach for 14 years; as a volunteer coach for youth athletic activities in basketball, hockey and soccer; and in several other areas.
Married for 18 years to Evelyn Santiago and the parents of six boys and a daughter, Chief Santiago also attended Glassboro State College and Camden County College where he received a degree in Applied Science - Fire Science Technology.