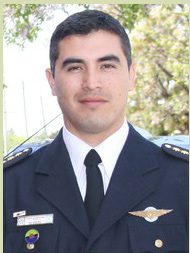 Chief Guillermo Rios
Policia de Seguridad Vial
Argentina
Guillermo Rios was born and raised in Buenos Aires, Argentina. Continuously promoted as a result of competency and numerous acts of bravery during his 19 years of service, Guillermo Rios became one of Argentina's youngest Police Chiefs, responsible for Argentina's highway patrol along the entirety of the Pan-American Highway.

In addition to being a helicopter pilot and serving as Police Chief, he plays a strategic intelligence role within Argentina after having had extensive anti-terrorist training with the Army of Colombia. He has also been trained and fully certified in SCUBA, high-angle rescue, wildland firefighting, identification and neutralization of dangerous chemicals, auto extrication, and all aspects of structural firefighting.

In September 2001, within days of the attack on the World Trade Center, speaking virtually no English and with no official contacts in the United States, he traveled to New York (for the first and only time) to help in the ongoing rescue and recovery effort of many of the 343 firefighters who selflessly laid down their lives for others. He immediately reported to Ground Zero where he worked 24/7 for nearly a month in assisting firefighters in the recovery of remains, in removing debris, in assisting the NYPD in providing perimeter security around Ground Zero, in working to reduce the spread of disease, and in countless other roles.

Returning to Argentina with enormous pride given the role that he played at so important a time in our history, he eventually met with representatives from the 911 FUND where he is again providing tremendous help in our training and equipping of first responders throughout Central and South America.

The proud father of twin girls who he lovingly refers to as his Twin Towers, the importance of the role that he now plays on the 911 FUND's International Advisory Board cannot be overstated.
Read Published News Article about Guillermo Rios »