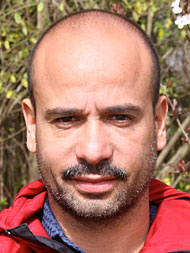 Firefighter Roberto Nunez
Jersey City Fire Department
United States
Born and raised in Jersey City, Bobby attended public school in Jersey City with the hope and goal of becoming a professional baseball player. Although talented and highly motivated, the competition for a baseball contract in the Major Leagues was fierce, and after high school, Bobby worked for Local 825 of the Operating Engineers for eight years between 1986-1994.
Although not scouted by the Major Leagues, Bobby was scouted and personally recruited to join the Jersey City Fire Department, to which he was appointed on November 14th, 1994 at the age of 27. During his 1st seven years on the job, Bobby worked in several busy companies.
For the past eight years he has been assigned to Squad Co. 4, which is among the busiest companies in Jersey City and as such, goes to every working fire. Jersey City is among the busiest fire departments in the US, and Bobby has been the proud recipient of six decorations for heroism.
As the head of the Association of Hispanic Firefighters of Jersey City for the past ten years, he has donated equipment and fire apparatus, along with his time and expertise, to train voluntary firefighters throughout the Dominican Republic. He has supported firefighters throughout Latin America, and in 2008 participated in a 911 FUND training mission to Argentina, where he was interviewed for the 911 FUND web-site, on which he proudly appears.
A "fireman's fireman," Bobby is a home run in every respect. His love for the fire service, his commitment to ongoing training, and his willingness to help anyone in need is crystal clear from the 1st moment you meet him. Happily married to Martha, the love of his life, they have four wonderful children.
The 911 FUND is extremely privileged to have Roberto Nunez as a member of its International Advisory Board.