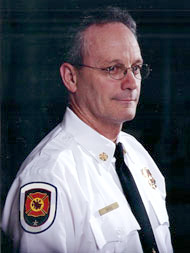 Chief Dennis K. Haas (Ret.)
United States
Chief Dennis K. Haas is a career fire officer with almost thirty years of professional service as a Firefighter, Chauffeur, Investigator, Marshal, Officer and Fire Chief. Certified as a Master Firefighter, Master Fire Inspector, Master Fire/Arson Investigator, Master Instructor, Master Fire Education Specialist, Fire Officer I, Fire Officer II, Chief and Commissioned Peace Officer, Chief Haas recently retired from the Fire Department in Copperas Cove, Texas.

Chief Haas is a member of the NFPA's Fire Officer Professional Qualifications Committee, teaches fire and EMS leadership courses at various colleges and at the National Fire Academy, and has performed countless organization-wide needs assessments with fire departments domestically, as well as in Argentina, El Salvador and Guatemala.

In addition to having received extensive specialized training from various state agencies (the Texas Forestry Service, DPS and ESTI) and federal agencies (ATF, FEMA, NFA), he holds a BAS degree in Public Administration, an AAS degree is Fire Protection Technology, is a prolific writer and is active in numerous fire service-related organizations (IAAI, IAFC, IFMA, TFCA and TFFMA, etc.).