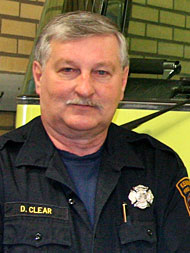 Firefighter Dale W. Clear
Kenmore New York Fire Department
United States
Born in Buffalo, NY, Dale moved with his family in 1959 to Buffalo's oldest suburb, the Village of Kenmore, where they have happily lived ever since.

After graduating from high school in 1969, Dale enlisted in the US Air Force, serving four years of active duty. He then joined the Air Force Reserve's 914th Airlift Wing at the Niagara Falls AFB, serving until his retirement in 1995. Dale proudly served several tours of duty in Viet Nam, Panama and Desert Storm. Dale then worked as a police officer with the US Department of Defense Police, leaving that position in late 2001 to fulfill his lifelong dream of becoming a career firefighter.
Having joined the Kenmore Fire Department as a volunteer firefighter in 1973, he served on numerous committees and rose through the ranks to become Captain. He also became an EMT in 1974, and in 1982 was appointed as a part-time, on-call firefighter/EMT. In 2001, he became a full-time career firefighter/EMT. Dale continues to serve both as a career and a voluntary firefighter/EMT, with specific oversight for fire inspections and code enforcement within and around Kenmore.
Dale brings to the 911 FUND a lifetime of cultural exchange, diverse interests and countless friendships throughout law enforcement as well as in the fire, pre-hospital care and emergency service community. We are deeply enriched by that experience and Dale's commitment to supporting emergency responders on a world-wide basis.
Married to his loving wife of 35 years, Jan, the Clear's have three wonderful children and five beautiful granddaughters.