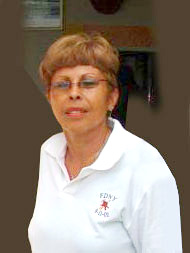 Griselda Bernal
Member, 911 FUND
Dominican Republic
Griselda Bernal was born in the Dominican Republic, then migrated to the United States at the age of 15, settling in New York City with her family.
Having worked as an educator most of her life, her efforts in large measure have been devoted to helping recent immigrants to the United States make a comfortable and rapid transition. Having also traveled worldwide and having had a lifelong interest and involvement in numerous charitable and church-related activities, her humanitarian efforts are now devoted to helping the 911 FUND in its efforts to improve quality of life issues for firefighters, first responders, emergency workers and the community-at-large throughout Central and South America.
Griselda Bernal has a Bachelor's degree from Lehman College, and a Master's degree from Hunter College, both of which are part of the City University of New York.