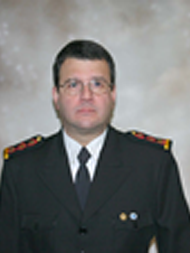 Vice President Carlos Mereles-Somers
Cuerpo de Bomberos Voluntarios del Paraguay (CBVP)
Asunción, Paraguay
With thirty years of firefighting service to the people of Paraguay, Carlos Mereles-Somers first studied to become a firefighter in 1982, went into active service in 1983, became Treasurer of Company One in Asunción in 1985, Second Officer of Company One in 1987, Director of the Economic Department for the CBVP in 1990, Vice President of CBVP in 1995, President of the CBVP between 1996 and 1998, Member of the Court of Honor of the CBVP in 2000, President of the Court of Honor between 2001 and 2005, Director of Company One in 2007, then Vice President of the CBVP in 2008, which is his current position.
A career of service and selflessness epitomize Chief Mereles-Somers. A lifelong student, Chief Mereles-Somers has participated both as a student and as an instructor in many and diverse fire service-related courses on a worldwide basis during his long and distinguished career, including urban firefighting, fire safety and fire education, technical rescue, first aid, emergency vehicle operations, Weapons of Mass Destruction, etc.
In addition, he has been the spokesperson for and has served as the official representative of the Cuerpo de Bomberos Voluntarios del Paraguay at meetings literally worldwide, including the Meeting of the World Federation of Volunteer Fire Departments in Bangkok, Thailand (1995); Meeting of the World Federation of Volunteer Fire Departments in Tokyo, Japan (1998); Meeting on Natural Disaster Management in Seoul, Korea (2008); Meeting of the Organización de Bomberos Americanos in Punta del Este, Uruguay (2009); in Bogotá, Colombia (2009); in Buenos Aires, Argentina (2010); in Chicago, Illinois (2010); and most recently in Boston, Massachusetts (2011).
Highly decorated for his leadership in the CBVP and indeed worldwide with service awards for 5, 10, 15, 20 and 25 years of service, Carlos Mereles-Somers is a member of and Past President of the Radio Club Paraguay.
A PhD Economist by training, Carlos Mereles-Somers brings a lifetime of service to others and is a proud addition to the International Advisory Board of the 911 FUND.